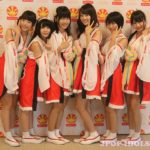 Niji no Conquistador participated in Japan Expo 2017 in Paris Nord Villepinte, France, in July.
The idol group delighted the audience during some live shows full of energy on the festival stage.
Check out our interview with the members of NijiCon.
Could you introduce yourselves?
– We are NijiCon! Nice to meet you!
– YA : My name is Yamato Ao. I'm 15.
– ON : I'm Okumura Nonoka. I'm 16.
– TM : I'm Tsurumi Moe. I'm 20.
– MK : My name is Matoba Karin. I'm 16.
– NM : My name is Nemoto Nagi. I'm 18.
– NA : I'm Nakamura Akari. I'm 19.
What is the concept of Niji no Conquistador?
– YA : We are not just idols who can only sing. We are split into 4 teams that also have different activities such as dubbing voices for anime, cosplay, drawing illustrations, and choreography.
Japan Expo is a festival that has most of this themes. What are your favorites among them?
– MK : We are all otaku. We visited the festival and we were very excited by what we saw.
What is the meaning of the group's name Niji no Conquistador?
– TM : The word « niji » means « rainbow » in Japanese, but it also means 2D. Then « conquistador » is a Spanish word that represents the fact that we would like to conquer the world of idols. The rainbow is like a bridge between these two elements.
If each member were to define themselves in a few words, what would they be?
– MK : Dance and NijiCon as an idol are all my life right now. These two things are the most important for me.
– ON : I love idols since I was a child. Now I really live a dream. I also like to eat Japanese rice cakes.
– TM : I'm an otaku who is a fan of anime and mangas. And I love food, I eat all the time
– NM : I love drawing and making illustrations. I joined Niji no Conquistador after an audition on Pixiv. I also like gravure idols, and I do it in Japan.
– YA : I'm funny and I'm also the youngest member of NijiCon. So some say that I am a child, and that's true that I have this character.
– NA : What I prefer is classical dance and ballet. I also love video games. While visiting Japan Expo, I also continue to play all the time.
Could you say a few words about your single Kimi wa Mujakina Natsu no Joou ~This Summer Girl Is an Innocent Mistress~ / Jump! / Natsu no Yo wa Mijika Sugiru Kedo…?
– MK : The theme of this single is the summer. It has a triple A-side. The music video is a little bit different from what we did before. It was shot in Guam.
You play the main roles in the movie Saint Zombie Jogakuin released in May. What did you think of this experience?
– MK : It was a very interesting experience. It was new for us. The shooting took place in a very good atmosphere. In the end, we don't really know if the story will continue or not. We would love to play in the sequel of the movie if there is one.
Question for Nemoto Nagi : You won the Sakidol Ace Survival Season 5 contest for gravure idols last year. What was your reaction after this success?
– NM : I was very happy to have won. I was not self-confident before. This success gave me more confidence. The other members of the NijiCon supported me a lot.
This year Matoba Karin also participates in this contest. What are your ambitions?
– MK : I would like to win obviously. But that will be difficult, and I will continue my activities as a member of the group.
What is your best memory since the debut of Niji no Conquistador ?
– MK : Last January, we held a one-man live . It was the first time that there were so many people at one of our concerts. We were really surprised. It was one of our best memories as we were also outside distributing flyers, and we didn't expect the event to be nearly sold out.
Could you say a few words about your photobook Rainbow Island?
– MK : It is the first photobook of NijiCon. The photos were taken in Guam. What is interesting is that the atmosphere is natural and not superficial. We enjoyed every moment. You can feel it when you see the pictures.
What did you think of the fans you met here at Japan Expo?
– MK : We were very surprised. I think most of these fans had already watched our videos on YouTube, so they knew the answers to give at the shows and the choreographies. We didn't expect that at all. We met some of them during the signing sessions, and they were all very kind. That was great.
You have already held live performances in several countries (Thailand, Canada, Singapore, Taiwan). Have you noticed any differences in the audience?
– NM : It is here that the welcome has been warmest for the moment. The people are really nice.
Do you have a message for your foreign fans?
– TM : I hade already been to Japan Expo 2 years ago, but as a solo artist, not as a member of Niji no Conquistador. I could see the difference. This year, some fans were waiting for us at the airport. We were really surprised. We would like to continue coming here, to make ourselves known so we can do more live performances here. Please continue to follow us!
Have you had the opportunity to visit Paris during your stay?
– MK : Yes, we went to Paris. When we look at the photos of tourist attractions, it is not necessarily the same in reality. But everywhere we went, it was like postcards. I was amazed and I felt like I was in Disneyland.
What advice would you give to a girl who would like to be an idol?
– MK : Of course you have to love the world of idols. You have to be strong and have a lot of willpower to. That's very important.
What do you like most about this world?
– OA : We love to make live shows.
In which countries would you like to go in the future?
– TM : In Spain and in Russia.
– MK : In Finland.
– NM : In Italy.
– YA : In Antarctic to give a concert on ice.