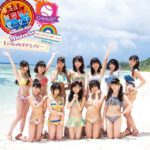 Niji no Conquistador released their new single Kimi wa Mujakina Natsu no Jou / Jump! (キミは無邪気な夏の女王 / じゃんぷ! ; This Summer Girl Is an Innocent Mistress) on September 5.
It marks the major label debut of the idol group NijiCon.
The members of Niji no Conquistador are wearing bikinis in the MV and they celebrate the end of the summer.
The CD of the regular edition is also for sale. It contains only the two main songs and two new ones in B-side.
The so-called "colored" limited edition DVDs each contain a different list of videos.
Tracklist
Regular Edition

CD

Kimi wa Mujakina Natsu no Jou ~This Summer Girl Is an Innocent Mistress~ (キミは無邪気な夏の女王~This Summer Girl Is an Innocent Mistress~)
Jump! (じゃんぷ!)
Natsu no Yoru wa Mijikasugiru Kedo… (夏の夜は短すぎるけど・・・)
Aka Edition (Red)

CD

Kimi wa Mujakina Natsu no Jou ~This Summer Girl Is an Innocent Mistress~ (キミは無邪気な夏の女王~This Summer Girl Is an Innocent Mistress~)
Jump! (じゃんぷ!)
Natsu no Yoru wa Mijikasugiru Kedo… (夏の夜は短すぎるけど・・・)

DVD

Kimi wa Mujakina Natsu no Jou ~This Summer Girl Is an Innocent Mistress~ (Music Video)
Daidai Edition (Orange)

CD

Kimi wa Mujakina Natsu no Jou ~This Summer Girl Is an Innocent Mistress~ (キミは無邪気な夏の女王~This Summer Girl Is an Innocent Mistress~)
Jump! (じゃんぷ!)
Natsu no Yoru wa Mijikasugiru Kedo… (夏の夜は短すぎるけど・・・)
Kimi wa Mujakina Natsu no Jou ~This Summer Girl Is an Innocent Mistress~ (Red Group)
Ki Edition (Yellow)

CD

Kimi wa Mujakina Natsu no Jou ~This Summer Girl Is an Innocent Mistress~ (キミは無邪気な夏の女王~This Summer Girl Is an Innocent Mistress~)
Jump! (じゃんぷ!)
Natsu no Yoru wa Mijikasugiru Kedo… (夏の夜は短すぎるけど・・・)
Midori Edition (Green)

CD

Kimi wa Mujakina Natsu no Jou ~This Summer Girl Is an Innocent Mistress~ (キミは無邪気な夏の女王~This Summer Girl Is an Innocent Mistress~)
Jump! (じゃんぷ!)
Natsu no Yoru wa Mijikasugiru Kedo… (夏の夜は短すぎるけど・・・)

DVD

The Movie of Rainbow Island ~Making in Guam~
Ao Edition (Blue)

CD

Kimi wa Mujakina Natsu no Jou ~This Summer Girl Is an Innocent Mistress~ (キミは無邪気な夏の女王~This Summer Girl Is an Innocent Mistress~)
Jump! (じゃんぷ!)
Natsu no Yoru wa Mijikasugiru Kedo… (夏の夜は短すぎるけど・・・)

DVD

Natsunoyo wa Mijika Sugirukedo … (Music Video)
Ai Edition (Indigo)

CD

Kimi wa Mujakina Natsu no Jou ~This Summer Girl Is an Innocent Mistress~ (キミは無邪気な夏の女王~This Summer Girl Is an Innocent Mistress~)
Jump! (じゃんぷ!)
Natsu no Yoru wa Mijikasugiru Kedo… (夏の夜は短すぎるけど・・・)
Kimi wa Mujakina Natsu no Jou ~This Summer Girl Is an Innocent Mistress~ (Green Group)
Murasaki Edition (Purple)

CD

Kimi wa Mujakina Natsu no Jou ~This Summer Girl Is an Innocent Mistress~
Jump!
Natsu no Yoru wa Mijikasugiru Kedo…
Kimi wa Mujakina Natsu no Jou ~This Summer Girl Is an Innocent Mistress~ (off vocal ver)
Jump! (off vocal ver)
Natsu no Yoru wa Mijikasugiru Kedo… (off vocal ver)
Music Video (PV)