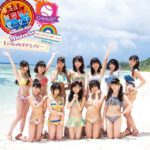 Niji no Conquistador released their new single Kimi wa Mujakina Natsu no Jou / Jump! (キミは無邪気な夏の女王 / じゃんぷ! ; This Summer Girl Is an Innocent Mistress) on September 5.
It marks the major label debut of the idol group NijiCon.
The members of Niji no Conquistador are wearing bikinis in the MV and they celebrate the end of the summer.