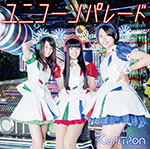 Cupitron's new single Unicorn Parade (ユニコーンパレード) is going to be released on September 17.
Cupitron is a new idol group performing techno electro songs. This is their 1st CD single.
The MV has been unveiled.
2 editions are available. The coupling songs are different for each one of them.
The limited edition includes a bonus DVD with the music video. It comes with a ticket for a release event held by Cupitron.
Tracklist
Regular Edition

CD

Unicorn Parade (ユニコーンパレード)
Pico Pico Club (ピコピコクラブ)
Kasei Tour (火星ツアー)
Unicorn Parade (Instrumental)
Pico Pico Club (Instrumental)
Kasei Tour (Instrumental)
Limited Edition

CD

Unicorn Parade
First Contact
Unicorn Parade (Instrumental)
First Contact (Instrumental)

DVD

Unicorn Parade (Music Video)
Music Video (PV)