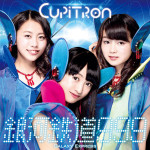 Cupitron's 4th single Galaxy Express 999 (銀河鉄道999) will go on sale on May 25th.
As the title suggests, this track is a cover of the theme song of the famous manga and anime by Matsumoto Leiji.
In the MV, the members of Cupitron are ready to take a steam train journey through the stars.
Matsumoto Leiji designed the futuristic costumes worn by the girls.