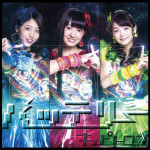 Cupitron's new single Battery (バッテリー) will be released on February 11.
It is the 2nd single from Cupitron. The idol group performes techno pop songs.
The MV has been unveiled.
The CD is produced by Tobeta Bajune. He wrote the lyrics of the title song. The music was composed by Tokisawa Nao.
The costumes were designed by fashion designer, actress and singer Shinohara Tomoe.
The regular edition contains 3 songs and their instrumental versions.
The limited edition includes a different B-side track. It comes with a bonus DVD featuring the music video.
Furthermore, Cupitron monthly live Galaxy Party ver.1.0.1 will be held on January 24 at Shibuya Rex, Tokyo.
Tracklist
Regular Edition

CD

Battery (バッテリー)
Warp Warp
Pi Po Pa Talk (ピポパトーク)
Battery (Instrumental)
Warp Warp (Instrumental)
Pi Po Pa Talk (Instrumental)
Limited Edition

CD

Battery
Denshi Keisanki no Yume (電子計算機の夢)
Battery (Instrumental)
Denshi Keisanki no Yume (Instrumental)

 DVD

Battery (Music Video)
Music Video (PV)