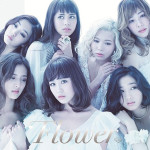 Flower's 9th single Sayonara, Alice / Tomorrow ~Shiawase no Housoku~ (さよなら、アリス / Tomorrow~しあわせの法則~) will be released on February 18.
It includes the Japanese version of the theme song for the American movie Annie performed by Flower. The film is going to be released in theaters on January 24 in Japan. It is an adaptation of the musical of the same title.
The MV has been unveiled.
It is a double A-side single.
Sayonara, Alice is described as a sad and painful song.
The music video for Tomorrow ~Shiawase no Housoku~ mixes footage the members of Flower and of actors Jaime Foxx, Quvenzhané Wallis, Cameron Diaz and Rose Byrne playing in Annie. A choir of 40 children participated in the recording.
Moreover, the members of Flower attended a special event held on January 20 at Ex Theater Roppongi, Tokyo, for the premiere of the movie in Japan.
Dream's new single Konna ni mo (こんなにも) will be on sale on February 11.
Tracklist
Regular Edition

CD

Sayonara, Alice (さよなら、アリス)
Tomorrow ~Shiawase no Housoku~ (Tomorrow~しあわせの法則~)
Sayonara, Alice (Instrumental)
Flower Garden(Instrumental)
Limited Edition

CD

Sayonara, Alice
Tomorrow ~Shiawase no Housoku~

DVD

Sayonara, Alice (Music Video)
Tomorrow ~Shiawase no Housoku~ (Music Video)
Music Video (PV)