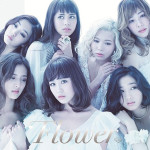 Flower's 9th single Sayonara, Alice / Tomorrow ~Shiawase no Housoku~ (さよなら、アリス / Tomorrow~しあわせの法則~) will be released on February 18.
It includes the Japanese version of the theme song for the American movie Annie performed by Flower. The film is going to be released in theaters on January 24 in Japan. It is an adaptation of the musical of the same title.
The MV has been unveiled.