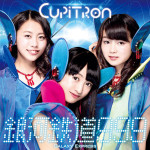 Cupitron's 4th single Galaxy Express 999 (銀河鉄道999) will go on sale on May 25th.
As the title suggests, this track is a cover of the theme song of the famous manga and anime by Matsumoto Leiji.
In the MV, the members of Cupitron are ready to take a steam train journey through the stars.
Matsumoto Leiji designed the futuristic costumes worn by the girls.
According to the manga artist, the concept of the costumes is to represent "fairies of the digital world".
The original song was released 37 years ago. The music of this new version has been arranged by the idol group's producer Tobeta Bajune and Nakamura Yusuke.
Moreover, Matsumoto Leiji was the guest of Cupitron's live performance which took place on April 17th at the Tokyo Hoku Topia Dome Hall. The single was introduced during this event.
Tracklist
Limited Edition

CD

Galaxy Express 999 (銀河鉄道999)
Techno Techno (テクノテクノ)
Galaxy Express 999 (Instrumental)
Techno Techno (Instrumental)*

DVD
Type A

CD

Galaxy Express 999
Love Science
Galaxy Express 999 (Instrumental)
Love Science (Instrumental)
Type B

CD

Galaxy Express 999
Ippunkan Dake Yume wo Miru (一分間だけ夢を見る)
Galaxy Express 999 (Instrumental)
Ippunkan Dake Yume wo Miru (Instrumental)
Music Video (PV)