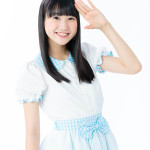 Yokoyama Miku joined RYUTist as a new member.
Miku-chan replaces Ooishi Wakana, a.k.a. Wakkar, who has just graduated in order to focus on studies.
Yokoyama Miku is 14 years old. She started her career as a solo idol in March 2014. Nevertheless, she was accompanied by a band of musicians while she was singing and dancing during her live performances. She is a fan of AKB48 and Arashi. Her image color is light blue.
She was introduced on April 17th after Ooishi Wakana's graduation live and ceremony.
Yokoyama Miku is from Niigata, and she belongs to Ryuto Artist Farm which is the same talent agency as RYUTist.
The idol group will restart activities with this new line-up on April 24th for RYUTist Home Live #175.