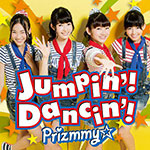 Prizmmy☆'s new single Jumpin'! Dancin'! will be released on September 17.
The MV and its dance master version have been unveiled.
It is the ending theme song for the anime PriPara (プリパラ, Puripara).
As for their previous works, the members of Prizmmy☆ show their skills in the choreography of this catchy song.
Only one edition is available. It comes with a bonus DVD featuring various versions of the music video.
Tracklist
CD

Jumpin'! Dancin'!
Wonder!!!! (ワンダ!!!!)
Jumpin'! Dancin'!
Wonder!!!!

DVD

Jumpin'! Dancin'! (Music Video)
Jumpin'! Dancin'! (Dance Master ver.)
Jumpin'! Dancin'! (TV size ver.)
Music Video (PV)