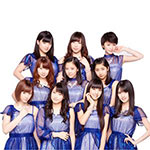 Morning Musume '14's 56th single Toki wo Koe Sora wo Koe / Password Is 0 (時空を超え 宇宙を超え / Password Is 0) will be released on April 16.
This is a double A-side single.
The MV, the covers and the new outfits have been unveiled.
Password Is 0 is the CM song for au's campaign made in collaboration with Morning Musume '14. It is performed by the idol group from Hello! Project and by the special unit Morimusu.
The regular editions come with the photo of a member of Morning Musume '14 randomly selected.
The limited editions include bonus DVD featuring various versions of the music videos and making-of footage. They also include a ticket for a handshake event.
Furthermore, Morning Musume Coupling Collection Vol.2 (モーニング娘。カップリングコレクション2) is on sale since March 12.
Morning Musume Concert Tour 2013 Aki ~Chance~ (モーニング娘。コンサートツアー2013秋 ~Chance!~) will be released on DVD and Blu-ray on March 26.
Tracklist
Regular Edition Type A – B / Limited Edition Type D

CD

Toki wo Koe Sora wo Koe (時空を超え 宇宙を超え)
Password Is 0
Toki wo Koe Sora wo Koe (時空を超え 宇宙を超え) (Instrumental)
Password Is 0 (Instrumental)
Limited Editions Type A – C

CD

Toki wo Koe Sora wo Koe (時空を超え 宇宙を超え)
Password Is 0
Password Is 0 (Morimusu ver.) (モリ娘。Ver.)
Toki wo Koe Sora wo Koe (時空を超え 宇宙を超え) (Instrumental)
Password Is 0 (Instrumental)

DVD
Music Video (PV)