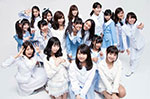 Tokyo Cheer2 Party's new single Susume! Freshman (進め! フレッシュマン) will be released on April 9.
The 4th generation members of Tokyo Cheer2 Party are making their first appearance on this single.
The MV has been released.
In Japanese, the word "Freshman" describes the newly hired employees. This applies to Kawashima Rei, Inoue Saki, Doko Ruriko and Motokawa Aika who joined the idol group in October 2013.
5 versions of the CD are available. The coupling song is different for each one of them.
In addition, Tokyo Cheer2 Party is going to hold audition to recruit the 5th generation members. The application period will end on April 15.
Furthermore, the idol unit will give a concert at Nippon Seinenkan on May 6.
Tracklist
Regular edition

Susume! Freshman (進め! フレッシュマン)
Kiseki no Chikara (キセキノチカラ)
Susume! Freshman (進め! フレッシュマン) (Instrumental)
Kiseki no Chikara (キセキノチカラ) (Instrumental)
Type A

Susume! Freshman (進め! フレッシュマン)
Kiseki no Chikara (キセキノチカラ) (Group 1 ver.)
Susume! Freshman (進め! フレッシュマン) (Instrumental)
Kiseki no Chikara (キセキノチカラ) (Instrumental)
Type B

Susume! Freshman (進め! フレッシュマン)
Kiseki no Chikara (キセキノチカラ) (Group 2 ver.)
Susume! Freshman (進め! フレッシュマン) (Instrumental)
Kiseki no Chikara (キセキノチカラ) (Instrumental)
Type C

Susume! Freshman (進め! フレッシュマン)
Suki… Suki (好き・・・好き。)
Susume! Freshman (進め! フレッシュマン) (Instrumental)
Suki… Suki (好き・・・好き。) (Instrumental)
Type D

Susume! Freshman (進め! フレッシュマン)
Haru ga Kita! (春が来たっ!)
Susume! Freshman (進め! フレッシュマン) (Instrumental)
Haru ga Kita! (春が来たっ!) (Instrumental)
Music Video (PV)