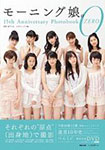 Morning Musume 15th Anniversary Photobook Zero will be released on September 30.
The photobook features photos of the 10 current members of Morning Musume shot in their hometowns, school uniforms, and more. It also includes a long interview with Tsunku♂.
It comes with bonus DVD featuring 55-minute footage.
The book has 104 pages.