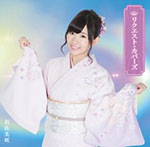 Iwasa Misaki (AKB48) will release her 1st solo album Request Covers (リクエスト・カバーズ) on November 6.
As its title suggests, this cover album contains enka songs performed by Iwasa Misaki.
The list of the 12 songs has been selected by the fans after a vote.
The limited edition includes a DVD with bonus footage.
Iwasa Misaki is a member of AKB48 Team B.
Tracklist
CD

Akai Sweet Pea (赤いスイートピー)
Toki no Nagare ni Mi wo Makase (時の流れに身をまかせ)
Love Is Over (ラヴ・イズ・オーヴァー)
Namida Sousou (涙そうそう)
Matsuwa (待つわ)
Ai no mama de… (愛のままで…)
Nagori Yuki (なごり雪)
Hanamizuki (ハナミズキ)
Blue Light Yokohama (ブルーライト・ヨコハマ)
Kita no Yado Kara (北の宿から)
Tsugunai (つぐない)
Ettou Tsubame (越冬つばめ)
DVD (Limited Edition)

Ai no mama de… (愛のままで…) (Recording Movie)