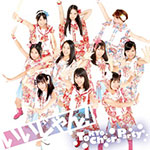 Tokyo Cheer2 Party's new single Iijan! (いいじゃん !) will be released on October 23.
It is the 2nd major label single from Tokyo Cheer2 Party.
10 members out of 17 have been selected to perform on the CD.
5 editions are available. The coupling track is different for each one of them.
Moreover, the title song is the new ending for the TV show Guru Guru Ninety-Nine (ぐるぐるナインティナイン) airing on Nippon Television (日本テレビ).
Regular Edition
CD

Iijan! (いいじゃん!)
Muteki no V Sign (無敵のVサイン)
Iijan! (いいじゃん!) (Instrumental)
Muteki no V Sign (無敵のVサイン) (Instrumental)
Type A
CD

Iijan! (いいじゃん!)
Yume Bangasa (夢番傘)
Iijan! (いいじゃん!) (Instrumental)
Yume Bangasa (夢番傘) (Instrumental)
Type B
CD

Iijan! (いいじゃん!)
Himawari (ひまわり)
Iijan! (いいじゃん!) (Instrumental)
Himawari (ひまわり) (Instrumental)
Type C
CD

Iijan! (いいじゃん!)
Koi no Kyori Aki no Yozora (恋の距離 秋の夜空)
Iijan! (いいじゃん!) (Instrumental)
Koi no Kyori Aki no Yozora (恋の距離 秋の夜空) (Instrumental)
Type D
CD

Iijan! (いいじゃん!)
Twin Karin Garin (トゥインカリンガリン)
Iijan! (いいじゃん!) (Instrumental)
Twin Karin Garin (トゥインカリンガリン) (Instrumental)
Music Video (PV)