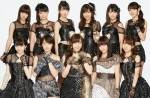 Morning Musume '16's concert scheduled on December 10 at Nitori Culture Center in Sapporo, Hokkaido, has been cancelled.
The members of the idol group were unable to arrive at the venue due to bad weather.
Hokkaido is located in the north of Japan, and the plane carrying the girls was prevented from landing at Sapporo airport because of the snow.
This event was part of Morning Musume '16 Autumn Concert Tour ~My Vision~. It is the first tour of the idol group from Hello! Project since the graduation of Suzuki Kanon.
Morning Musume '16's next live performance will be held on December 12 at Nippon Budokan in Tokyo.
Then the girls will perform at the Hello! Project 2017 Winter Tour ~Crystal Clear~ & ~Kaleidoscope~ from January to February 2017.