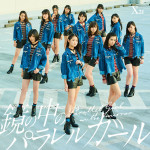 X21 will release its 9th single Kagami no Naka no Parallel Girl (鏡の中のパラレルガール) on December 21.
For the first time, X21 members participated in the writing of the lyrics.
Check out the MV below.
The title was also translated into English on the cover : Parallel Girl in the Mirror.
The single will be available in two main versions and two more sold in the mu-mo stores.
The regular version will include the CD only containing one additional song than the CD of the limited version.
The DVD will contain the clip and a bonus video.
Tracklist
Regular Edition

CD

Kagami no Naka no Parallel Girl (鏡の中のパラレルガール)
Holy☆Holiday
Dear.Darlin'
Kagami no Naka no Parallel Girl (Instrumental)
Holy☆Holiday (Instrumental)
Dear.Darlin' (Instrumental)
Limited Edition

CD

Kagami no Naka no Parallel Girl (鏡の中のパラレルガール)
Holy☆Holiday
Kagami no Naka no Parallel Girl (Instrumental)
Holy☆Holiday (Instrumental)

DVD

Kagami no Naka no Parallel Girl (Music Video)
Kagami no Naka no Parallel Girl (Off-shot)
Music Video (PV)