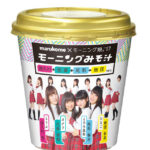 Morning Musume '17 released the MV for Morning Miso Soup (モーニングみそ汁).
This song is a remake of the idol group's 1st hit Morning Coffee (モーニングコーヒー) with new lyrics.
It was produced to commemorate the collaboration between Morning Musume '17 and Japanese miso soup paste company Marukome.
In the music video, the 13 members of Morning Musume '17 are enjoying an outdoor party at a campground.
4 versions of the Morning Miso soup will be on sale in Japan starting from late March and for a limited period of time. The girls are wearing the same outfits as the original version on the package.
A special website has been opened.
Music Video (PV)