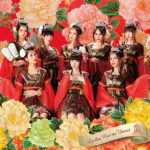 Houkago Princess will release their new single Lychee Red no Unmei (ライチレッドの運命) on February 15.
This is the 5th major single of the idol group.
Check out the short version of the MV. In the video clip, the members go back in time of ancient China, under the reign of Yang Guifei, the famous beauty of ancient China and beloved consort of the last Tang Dynasty emperor.
The members of Houkago Princess live inside wonderful a Chinese castle, and are stunning in their decorated red and gold outfits.
The leader Nana Odagiri, dressed in white with her headdress glittering in the candlelight, takes on the role of Yang Guifei.
After the sudden departure of Nagasawa Marina on December 31, 2016, the single Lychee Red no Unmei is a new start for the Houkago Princess.
The B-side song is titled Sennen Maika and will be a dance song centered around Maika, member of Houkago Princess and good dancer.
The release of the single will precede the Odagiri Nana's birthday concert, which will be held in Tsutaya O-West on February 14.
Lychee Red no Unmei (ライチレッドの運命)
Sennen Maika (千年舞歌)
Lychee Red no Unmei (Instrumental)
Sennen Maika (Instrumental)
Lychee Red no Unmei (Music Video)
Music Video (PV)