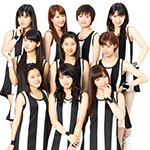 Morning Musume are going to change their name to Morning Musume '14 (モーニング娘。'14) on January 1, 2014.
The announcement was made by the producer Tsunku♂ on his blog and on the official website.
As the idol group is active for 17 years, the idea is to identify the release year of a single. In this way, the fans can more easily know the period and the members who performed a song. The name of Morning Musume will be updated yearly.
'14 is pronounced "one four".
Furthermore, Morning Musume will release their 55th single on January 29.