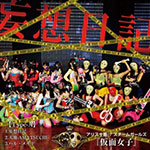 Alice Juban and Steamgirls will release their new collaboration single Mousou Nikki (妄想日記) on December 11.
Alice Juban and Steamgirls are credited as Kamen Joshi (仮面女子) on this single.
The B-side track 天地-Amatsuchi- is the tie-up song for the PC RPG game Shin Megami Tensei Imagine (真・女神転生Imagine).
6 versions are available. The CD contains 3 songs. The 3rd track is different for each edition.
The PV and a video recording at P.A.R.M.S. Theater during a live performance have been released.
Tracklist
Type A
Mousou Nikki (妄想日記)
Amatsuchi (天地)
Haru Megido (ハル・メギド)
Type B
Mousou Nikki (妄想日記)
Amatsuchi (天地)
Happy Birthday (ハピバデ)
Type C
Mousou Nikki (妄想日記)
Amatsuchi (天地)
Yasashii Kaze (優しい風)
Type D
Mousou Nikki (妄想日記)
Amatsuchi (天地)
Alice no Jikan (アリスの時間)
Type E
Mousou Nikki (妄想日記)
Amatsuchi (天地)
Alice no Ori (アリスの檻)
Type F
Mousou Nikki (妄想日記)
Amatsuchi (天地)
Niko Niko Kinoko Friends (ニコニコキノコフレンズ)
Video