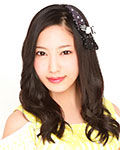 Muro Kanako announced her graduation from NMB48.
Muro Kanako explained that she decided to leave the group because she wants pursue her career as a gravure idol.
This announcement was made on May 8 during NMB48 Team N performance at their theater in Osaka.
The date of her graduation live and ceremony haven't be determined yet.
Muro Kanako is 18 years old. She is a 3rd generation member of NMB48. She joined the idol group in 2012. She is currently part of Team N. She was previously in Team BII.
1111111111genere