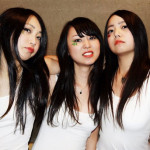 Mutant Monster is a Japanese female punk rock band formed in May 2008.
It consists of 3 members.
Be and Meana are sisters. Chad is a former classmate.
They are called the MM Girls.
Biography / History
Be and Meana formed Mutant Monster in May 2008. They were high school students.
The girls quickly gained popularity when they performed at local live houses.
They collaborated with the famous punk rock band The Star Club in late 2008.
Mutant Monster's 1st mini-album Follow Me was released in July 2009. The CD was limited to 2000 copies.
In 2011, the original drummer left the band. She was replaced by Chad who became an official member in November 2012.
Their 1st full album True Tone was released nationwide in December 2011.
Mutant Monster participated in hundreds of live performances since their debut. They are still indies.
The girls were the guests of Japan Expo Sud in Marseille, France, in March 2015.
Related article :
Profile
Mutant Monster
Years active : 2008 – present
Label : Noteless
Agency : –
Members
Be – Wild Bass & Vocal
Meana – Rude Guitar & Vocal
Chad – Sweet Drums & Chorus
Discography
Singles
15/07/2010 : Yuuryou Renai (有料恋愛)
Albums
21/12/2011 : True Tone
02/07/2014 : 15 Sai no Rashinban (15歳の羅針盤)
Mini-Albums
07/07/2009 : Follow Me
06/03/2013 : Girl's Fight
Links
News