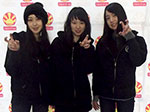 Mutant Monster is a Japanese female punk rock band.
The MM Girls were the guests of Japan Expo Sud 2015 in France on March 6-8.
They held some energetic live performances for their first overseas appearance.
Check out our interview with Meana, Chad and Be, the 3 members of Mutant Monster.