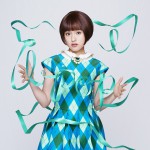 The new album of Muto Ayami entitled I-POP will be on sale on February 25.
I-POP is the second original album of Muto Ayami since her graduation from Sakura Gakuin almost three years ago, succeeding the first album of the singer Eien to Shunkan.
In the music video for Parallel World, she plays the role of a kawaii little red riding hood wandered into the dark world. The PV features English subtitles.
The album will contain a total of 8 tracks and will be sold in three editions with different covers : a regular edition noted "Music Edition" and two limited rated "Anniversary Edition" and "Yell Edition".
The regular edition will contain only the CD with a bonus track Sora (宙), track from the first album. The limited editions will be accompanied by a DVD extra (different for each edition). The DVDs include the filmed recording sessions for the album, the making of one of the songs and performance videos at Akasaka BLITZ LIVE.
Tracklist
CD

Parallel World (パラレルワールド)
Daydreamin'
Doki Doki
Mira Creation (ミラクリエイション)
Kaze no Shippo (風のしっぽ)
Kōshin-kyoku Dai 1-ban Henrochōchō (交信曲第1番変ロ長調)
Mirai e no Sign (未来へのSign)
OWARI WA HAJIMARI
Sora (宙) (Music Edition only)
DVD ("Anniversary")

Videos of Ayami Muto recording/preparing the eight new tracks
"OWARI WA HAJIMARI" @ Akasaka BLITZ LIVE vol.1
DVD ("Yell")

Parallel World" Making the video & Special Contents
"OWARI WA HAJIMARI" @ Akasaka BLITZ LIVE vol.2
Music Video (PV)