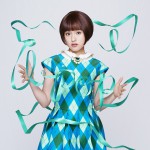 The new album of Muto Ayami entitled I-POP will be on sale on February 25.
I-POP is the second original album of Muto Ayami since her graduation from Sakura Gakuin almost three years ago, succeeding the first album of the singer Eien to Shunkan.
In the music video for Parallel World, she plays the role of a kawaii little red riding hood wandered into the dark world. The PV features English subtitles.