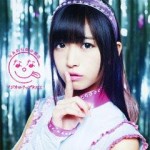 [email protected]'s 2nd single Magical Lip Kiss (マジカルリップKiss) will be released on November 7.
The songs were written by Tsunku♂.
The limited edition includes a bonus DVD featuring music video and dance versions, including a special cosplay version in which [email protected] is dressed as a maid, in swimsuit, as Santa, as a policewoman.
Regular Edition
CD

Magical Lip Kiss (マジカルリップKiss)
Kokoro ga Sukoshi Genki nai Mitai (心が少し 元気ないみたい)
Magical Lip Kiss (マジカルリップKiss) (Instrumental)
Kokoro ga Sukoshi Genki nai Mitai (心が少し 元気ないみたい) (Instrumental)
Limited Edition
CD

Magical Lip Kiss (マジカルリップKiss)
Kokoro ga Sukoshi Genki nai Mitai (心が少し 元気ないみたい)
Magical Lip Kiss (マジカルリップKiss) (Instrumental)
Kokoro ga Sukoshi Genki nai Mitai (心が少し 元気ないみたい) (Instrumental)
DVD

Magical Lip Kiss (マジカルリップKiss) (Music Video)
Magical Lip Kiss (マジカルリップKiss) (Making-of)
"Maid Mizuki Santa Keikan" Magical Lip Kiss "Cosplay de Odottemita" (【メイド水着サンタ警官】マジカルリップKISS【コスプレで踊ってみた】)