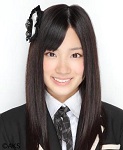 Yagami Kumi announced her graduation from SKE48. The date hasn't been decided yet.
Yagami Kumi is a member of SKE48 Team S. She had joined the group in 2008.
She is also a member of the subunit No Name.
She appeared in the drama Majisuka Gakuen, and dubbed the character Shinonome Sonata in the anime series AKB0048.
Yagami Kumi's graduation announcement : https://plus.google.com/u/0/109140442575159610384/posts