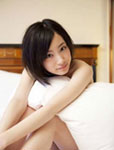 SKE48 Yagami Kumi Graduation Photobook (SKE48 矢神久美 卒業写真集) will be released on April 26.
The photo shoot was done in Yakushima and Harajuku. The photobook includes pictures of Kuumin in various outfit. It comes with a reversible poster.
Yagami Kumi will graduate from SKE48 in April. She announced her sotsugyou in November. Kuumin is part of Team S. She joined the idol group in 2008 as a 1st generation member.