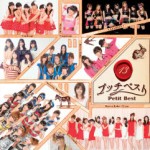 Hello! Project Petit Best 13 (プッチベスト13), also called Pucchi Best 13, will be released on CD and DVD on December 5.
This annual compilation features singles from Morning Musume, Berryz Kōbō, °C-ute, Mano Erina, S/mileage, Buono!, Cat's Eye 7, Niigaki Risa, Tsugunaga Momoko, and more released during the year 2012.
It also contains a special version of the song The Matenrou Show performed by Takahashi Ai, Niigaki Risa, Tanaka Reina, Michishige Sayumi, and Mitsui Aika.
The DVD includes 2 additional songs.
CD
Tracklisting

Renai Hunter (恋愛ハンター) (Morning Musume)
One・Two・Three (Morning Musume)
Be Genki(Be 元気<成せば成るっ!>) (Berryz Kōbō)
Cha Cha Sing (Berryz Kōbō)
Kimi wa Jitensha Watashi wa Densha de Kitaku (君は自転車 私は電車で帰宅) (°C-ute)
Aitai Aitai Aitaina (会いたい 会いたい 会いたいな) (°C-ute)
Doki Doki Baby (ドキドキベイビー) (Mano Erina)
Song for the Date (Mano Erina)
Dot Bikini (ドットビキニ) (S/mileage)
Suki Yo, Junjou Hankouki. (好きよ、純情反抗期。) (S/mileage)
Chou Happy Song (超 Happy Song) (Berryz Kōbō × °C-ute)
Hatsukoi Cider (初恋サイダー) (Buono!)
Cat's Eye (Cat's Eye 7)
Egao ni Namida ~Thank You Dear my Friend~ (笑顔に涙 ~Thank You Dear my Friend~) (Niigaki Risa)
Momochi! Yurushite Nyan♡Taisou (ももち!許してにゃん♡体操) (Tsugunaga Momoko)
The Matenrou Show (The摩天楼ショー) (Type 0) (Takahashi Ai, Niigaki Risa, Tanaka Reina, Michishige Sayumi, Mitsui Aika)
DVD
Tracklisting

Renai Hunter (恋愛ハンター) (Morning Musume)
One・Two・Three (Morning Musume)
Be Genki(Be 元気<成せば成るっ!>) (Berryz Kōbō)
Cha Cha Sing (Berryz Kōbō)
Kimi wa Jitensha Watashi wa Densha de Kitaku (君は自転車 私は電車で帰宅) (°C-ute)
Aitai Aitai Aitaina (会いたい 会いたい 会いたいな) (°C-ute)
Doki Doki Baby (ドキドキベイビー) (Mano Erina)
Song for the Date (Mano Erina)
Dot Bikini (ドットビキニ) (S/mileage)
Suki Yo, Junjou Hankouki. (好きよ、純情反抗期。) (S/mileage)
Chou Happy Song (超 Happy Song) (Berryz Kōbō × °C-ute)
Hatsukoi Cider (初恋サイダー) (Buono!)
Loving you Too Much (Berryz Kōbō)
Kanashiki Heaven (悲しきヘブン) (°C-ute)
Cat's Eye (Cat's Eye 7)
Egao ni Namida ~Thank You Dear my Friend~ (笑顔に涙 ~Thank You Dear my Friend~) (Niigaki Risa)
Momochi! Yurushite Nyan♡Taisou (ももち!許してにゃん♡体操) (Tsugunaga Momoko)
The Matenrou Show (The摩天楼ショー) (Type 0) (Takahashi Ai, Niigaki Risa, Tanaka Reina, Michishige Sayumi, Mitsui Aika)