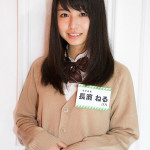 Nagahama Neru joined Keyakizaka46 as a new member.
She was introduced during an episode of the variety show Keyaki tte, Kakenai? (欅って、書けない?) broadcast on November 30 sur TV Tokyo.
Nagahama Neru is 17 years old. She was born in Nagasaki Prefecture.
It was revealed that she was unable to participate in the final round of Keyakizaka46 audition in Tokyo because she was brought back home by her mother. Then, she was so sad that her father decided to contact the idol group staff in order to get another chance. After some discussions, Nagahama Neru and her parents were invited to Nogizaka46 live in Fukuoka. After the concert, she was allowed to audition one more time, and did a great performance. As a result, the staff decided to recruit her.
Furthermore, it was announced that auditions are going to be held soon for the new sub-unit Hiragana Keyakizaka46.