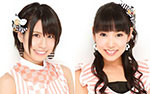 Nakanishi Yuka and Sato Mieko announced their graduation from SKE48.
Both girls will continue their activities with the idol group from Nagoya until March 2015.
Nakanishi Yuka told that she took this decision for many reasons but didn't give a lot of details. She wanted to take up a new challenge. She felt that it was the time for her to leave as she is a member of SKE48 for 6 years.
Sato Mieko said that it was a positive graduation. She added that she wanted to make a lot of memories until March.
This announcement was made on December 24 during Team S live performance.
Nakanishi Yuka and Sato Mieko are 1st generation members of SKE48. The 2 girls joined the idol group in 2008. They are part of Team S.