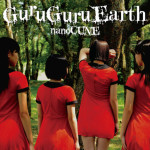 nanoCUNE's new single Guru Guru Earth (グルぐるあーす) will be released on November 4.
This is the 2nd major label single from nanoCUNE, and the last one featuring Kinoshita Kokoro who graduated on September 21 due to poor physical health.
The idol group is going to pursue its activities as a 3-member unit.
Kinoshita Kokoro went temporarily on hiatus over the last months. However, as she didn't manage to fully recover, she decided to announce her graduation.
The limited edition includes bonus live songs recorded during nanoCUNE's concert which took place on August 28.
Tracklist
Real ver.

CD

Guru Guru Earth (グルぐるあーす)
Moya Moya Day by Day (モヤもやDay by Day)
Guru Guru Earth (Instrumental)
Moya Moya Day by Day (Instrumental)
Virtual ver.

CD

Guru Guru Earth
Moya Moya Day by Day
Eien Nonsense (永遠ナンセンス)
FairyCircle 2015.08.28 -Live Edit-

Opening SE
Tempra (テンプラ)
Massatsu Rock (抹殺ロック)
The Tragic Macho Man (悲劇のマッチョマン)
Miira Otoko to Franken (ミイラ男とフランケン)
TV Easy (TVいーじー)
Machibouke (待ちぼうけ)
Ao no Sekai (碧の世界)
Usotsuki Ryan (嘘つきライアン)
Ending SE