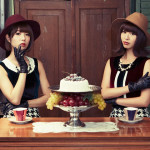 The group Vanilla Beans announced to have signed a new contract under the popular recording label avex trax.
This announcement was made on August 29 while the oneman live at Shibuya clubasia in Tokyo. The original member, Rena, announced with great emotion that the idol group will make its major debut after 8 years of existence. She thanked her fans and promised to never give up while holding back tears.
This new contract marks the official end of the previous contract under the independant idol label T-Palette Records, under which Vanilla Beans released its discs during 4 years.
avex trax is a well-known Japanese recording label under which signed the popular artists such as Amuro Namie, Hamasaki Ayumi, Koda Kumi, and some idol groups like Fairies, SKE48 or also E-girls.
Furthermore, the Shibuya-kei idol group announced to release its first major single Onna wa Sore wo Gaman Shinai / Be-nius / lonesome X (女はそれを我慢しない / ビーニアス / lonesome X) on November 18.