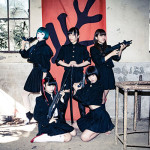 Ultradark Japanese idol unit Necronomidol will release new EP from chaos born on June 15th.
The EP will contain 6 new songs spanning genres from post-black metal / shoegaze to power metal and idol pop.
Necronomidol has been very busy preparing for their upcoming one-man show at Ebisu Liquidroom on June 30th. Since the start of May they have been debuting a new song every week but have also found time to record a new disc containing 6 of those songs. The EP, titled from chaos born, will be released in record shops/online shops all across Japan on June 15th with an online release (via iTunes, Amazon, Google Play, etc) on the same date.
The cover art was designed by the legendary manga artist Toshio Maeda (best known as the creator of Urotsukidoji and La Blue Girl as well as for his recent collaboration with streetwear brand Supreme) and photography by Kenta Sotobayashi (photographer for BiSH and Oyasumi Hologram).
Samples of the new songs are available on the idol group's official webpage: www.necronomidol.com
Necronomidol will be playing all these songs and more at their upcoming 2 year anniversary one man show at Ebisu Liquidroom. The show will see the idol group playing on a larger stage than ever before at one of the most venerated live venues in all of Japan. Tickets are currently available for pre-order on e+.
Tracklist
psychopomp
Shimin Kaihougun
Nyx
Tamam Shud
Midnight Dominator
Idols Elegy