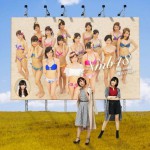 The new single of NMB48 entitled Boku wa Inai (僕はいない) is on sale since August 3.
This the 15th single of the idol group.
The short and dance versions of the MV were unveiled.
The senbatsu members are : Ota Yuuri, Kato Yuuka, Kishino Rika, Jonishi Kei, Suto Ririka, Yamamoto Sayaka, Yoshida Akari, Okita Ayaka, Tanigawa Airi, Fujie Reina, Murase Sae, Yagura Fuuko, Shiroma Miru, Yabushita Shu, Watanabe Miyuki and Shibuya Nagisa.
The center is Watanabe Miyuki.
This is the last single in which Miyuki participates because she'll leave the group after the single release, to focus her in other projects and give her place to the new generation. Her and Yamamoto Sayaka are popular and central members of the group. They recorded as duet (SayaMilky) a song Ima Naraba included in the single.
All the editions (exepted Theater) include a CD and a DVD containing of clips and different bonus videos.
Tracklist
Type A

CD

Boku wa Inai (僕はいない)
Ima Naraba (今ならば) (SayaMilky)
Sora Kara Ai ga Futtekuru (空から愛が降って来る) (Team N)
Boku wa Inai (off vocal ver.)
Ima Naraba (off vocal ver.)
Sora Kara Ai ga Futtekuru (off vocal ver.)

DVD

Boku wa Inai (Music Video)
Boku wa Inai (Music Video Dancing Version)
Sora Kara Ai ga Futtekuru (Music Video)
NMB48 Live House Tour 2016 Zepp Namba (3/30 Night: Nishimura Aika Graduation Concert)
Type B

CD

Boku wa Inai (僕はいない)
Ima Naraba (今ならば) (SayaMilky)
Saigo no Goshakudama (最後の五尺玉) (Team N)
Boku wa Inai (off vocal ver.)
Ima Naraba (off vocal ver.)
Saigo no Goshakudama (off vocal ver.)

DVD

Boku wa Inai (Music Video)
Boku wa Inai (Music Video Dancing Version)
Saigo no Goshakudama (Music Video)
NMB48 Live House Tour 2016 Zepp Namba (3/31 Afternoon)
Type C

CD

Boku wa Inai (僕はいない)
Ima Naraba (今ならば) (SayaMilkky)
Mousou Machine 3gouki (妄想マシーン3号機) (Team BII)
Boku wa Inai (off vocal ver.)
Ima Naraba (off vocal ver.)
Mousou Machine 3gouki (off vocal ver.)

DVD

NMB48 Live House Tour 2016 Zepp Namba (3/31 Night: Umeda Ayaka Graduation Concert)
Mousou Machine 3gouki (Music Video)
Boku wa Inai (Music Video Dancing Version)
Boku wa Inai (Music Video)
Type D

CD

Boku wa Inai (僕はいない)
Ima Naraba (今ならば) (SayaMilky)
Short Cut no Natsu (ショートカットの夏) (Suto Ririka solo)
Boku wa Inai (off vocal ver.)
Ima Naraba (off vocal ver.)
Short Cut no Natsu (off vocal ver.)

DVD

Boku wa Inai (Music Video)
Boku wa Inai (Music Video Dancing Version)
Ima Naraba (Music Video)
NMB48 feat. Yoshimoto Shinkigeki Vol.15 (NMB48 feat.吉本新喜劇 Vol.15)
Boku wa Inai (Making Video)
Theater Edition

CD

Boku wa Inai (僕はいない)
Ima Naraba (今ならば) (SayaMilky)
Yume no Nagori (夢の名残り) (Watanabe Miyuki solo)
Boku wa Inai (off vocal ver.)
Ima Naraba (off vocal ver.)
Yume no Nagori (off vocal ver.)
Music Video (PV)