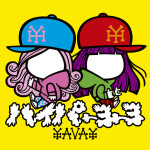 hy4_4yh is back this summer with its new album YAVAY which will be on sale on August 10.
It's the first album of the idol group under a major label.
The clip of One Night Carnival was unveiled. Watch it below.
The album will be available in regular and limited/deluxe editions.
The CD will include 10 new songs.
The DVD will include several clips video of the group's singles and a new clip of the song K.U.N.F.U.
Tracklist
CD

K.U.N.F.U
Wannabe RHYMESTER
ONE NIGHT CARNIVAL~ Tickeee-Teens Rōdo (ONE NIGHT CARNIVAL 〜ティッケー・ティーンズロード)
Funky Perfect World
SARU WARS
Tickeee Yarou (ティッケー野郎)
KING OF LOVE
Kanon (κανών(カノン))
Rainbow Maker
Taiyou Sound (太陽サウンド)
DVD

Music Video

K.U.N.F.U
Love Genome
Yavay Japan 2020
Oh ! Sista
Tickeee on the Beach (ティッケー・オン・ザ・ビーチ)
hi-Tunes ~Yavay Party Anthem
Tickeee Daisakusen~Yavay (ティッケー大作戦 ~YAVAY)
Clip Vidéo (MV)