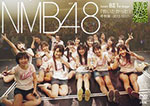 NMB48 Team BII 1st Stage "Aitakatta" Senshuuraku 2013.10.17 (NMB48 Team BII 1st Stage「会いたかった」千秋楽) will be released on DVD on January 1.
This DVD includes the final live performance of the stage held on October 17, 2013 at NMB48 Theater in Osaka.
The setlist has 16 songs including a medley.
In addition, the idol group will release NMB48 Studio Recording (NMB48スタジオレコーディング) on January 1. It is consisting of 5 stage albums.
Setlist
Nageki no Figure (嘆きのフィギュア)
Namida no Shounan (涙の湘南)
Aitakatta (会いたかった)
Nagisa no Cherry (渚のCherry)
Glass no I Love You (ガラスのI Love You)
Koi no Plan (恋のPlan)
Senaka kara Dakishimete (背中から抱きしめて)
Rio no Kakumei (リオの革命)
Jesus
Dakedo…(だけど…)
Sakura no Hanabiratachi (桜の花びらたち)
Mirai no Tobira (未来の扉)
NMB48
Almond Croissant Keikaku (アーモンドクロワッサン計画)
Kamonegics (カモネギックス)
Medley (メドレー)

Kitagawa Kenji (北川謙二)
Virginity (ヴァージニティー)
Mikazuki no Senaka (三日月の背中)
Seishun no Lap Time (青春のラップタイム)