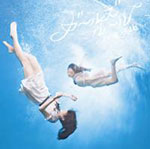 Nogizaka46's 6th single Girl's Rule (ガールズルール) will be released on July 3.
Shiraishi Mai has been chosen as the center for this single.
The 16 Senbatsu members have also been announced.
Girl's Rule is the theme song for the drama Bad Boys J starring some members of Nogizaka46 and Itano Tomomi (AKB48).
4 versions are available. Each one of them contains 3 songs and their instrumental versions.
The limited editions include a DVD featuring music videos and bonus footage.
Senbatsu Members
1st row : Matsumura Sayuri, Shiraishi Mai, Hashimoto Nanami
2nd row : Sakurai Reika, Ikuta Erika, Ikoma Rina, Nishino Nanase, Takayama Kazumi
3rd row : Ito Marika, Inoue Sayuri, Nakada Kana, Wakatsuki Yumi, Hoshino Minami, Akimoto Manatsu, Fukagawa Mai, Saito Yuuri
Tracklist
Regular Edition
CD

Girl's Rule (ガールズルール)
Sekai de Ichiban Kodoku na Lover (世界で一番 孤独なLover)
Ningen to Iu Gakki (人間という楽器)
Girl's Rule (ガールズルール) (Instrumental)
Sekai de Ichiban Kodoku na Lover (世界で一番 孤独なLover) (Instrumental)
Ningen to Iu Gakki (人間という楽器) (Instrumental)
Limited Edition Type A
CD

Girl's Rule (ガールズルール)
Sekai de Ichiban Kodoku na Lover (世界で一番 孤独なLover)
Koumori yo (コウモリよ)
Girl's Rule (ガールズルール) (Instrumental)
Sekai de Ichiban Kodoku na Lover (世界で一番 孤独なLover) (Instrumental)
Koumori yo (コウモリよ) (Instrumental)
DVD

Girl's Rule (ガールズルール) (Music Video)
Sekai de Ichiban Kodoku na Lover (世界で一番 孤独なLover) (Music Video)
16-nin no Principal @Parco (「16人のプリンシパル」@PARCO劇場) (Digest)
Limited Edition Type B
CD

Girl's Rule (ガールズルール)
Sekai de Ichiban Kodoku na Lover (世界で一番 孤独なLover)
Senpuuki (扇風機)
Girl's Rule (ガールズルール) (Instrumental)
Sekai de Ichiban Kodoku na Lover (世界で一番 孤独なLover) (Instrumental)
Senpuuki (扇風機) (Instrumental)
DVD

Girl's Rule (ガールズルール) (Music Video)
Senpuuki (扇風機) (Music Video)
Shoka no Zenryoku! Nogizaka46 Dai Undoukai (初夏の全力!乃木坂46大運動会)
Limited Edition Type C
CD

Girl's Rule (ガールズルール)
Sekai de Ichiban Kodoku na Lover (世界で一番 孤独なLover)
Hoka no Hoshi kara (他の星から)
Girl's Rule (ガールズルール) (Instrumental)
Sekai de Ichiban Kodoku na Lover (世界で一番 孤独なLover) (Instrumental)
Hoka no Hoshi kara (他の星から) (Instrumental)
DVD

Girl's Rule (ガールズルール) (Music Video)
Hoka no Hoshi kara (他の星から) (Music Video)
Making of 6th single
Music Videos (PV)