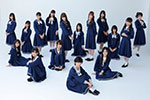 The concert tour Nogizaka46 Manatsu no Zenkoku Tour 2013 (乃木坂46 真夏の全国ツアー) will be held from August 19 to 30.
The concerts of Nogizaka46 will take place in Sapporo, Fukuoka, Osaka, Nagoya, and Tokyo.
2 live performances, in the afternoon and in the evening, are scheduled on each date.
Moreover, Nogizaka46's upcoming single Girl's Rule (ガールズルール) will go on sale on July 3.
Schedule
19/08/2013 : Zepp Sapporo
23/08/2013 : Zepp Fukuoka
27/08/2013 : Zepp Namba Osaka
28/08/2013 : Zepp Nagoya
30/08/2013 : Zepp Tokyo