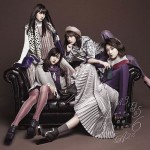 The new single of Nogizaka46 entitled Sayonara no Imi (サヨナラの意味) will be on sale on November 9.
The MVs were unveiled.
The center position is held by Hashimoto Nanami, who announced her graduation on October 23.
The senbatsu members are : Akimoto Manatsu, Ikuta Erika, Ikoma Rina, Ito Marika, Inoue Sayuri, Eto Misa, Saito Asuka, Sakurai Reika, Shiraishi Mai, Takayama Kazumi, Nakamoto Himeka, Nishino Nanase, Hashimoto Nanami, Hoshino Minami, Matsumura Sayuri, Wakatsuki Yumi, Kitano Hinako, Shinuchi Mai and Hori Miona.
Nogizaka46's 14th single includes a solo song by Hashimoto Nanami.
In Sayonara no Imi's video, the members of Nogizaka46 live in a kingdom where members attempt to settle an ancient blood feud and say goodbye to Hashimoto Nanami by removing her the crown. This refers, in real life, a farewell to the group one of the original members. Hashimoto Hanami will graduate from the band after the single release.
Sayonara no Imi is somehow a graduation song for Hashimoto.
Several editions will be available.
Tracklist
Regular Edition

CD

Sayonara no Imi (サヨナラの意味)
Kodoku na Aozora (孤独な青空)
Naimononedari (ないものねだり) (Hashimoto Nanami solo)
Sayonara no Imi (off vocal ver.)
Kodoku na Aozora (off vocal ver.)
Naimononedari (off vocal ver.)
Type A

CD

Sayonara no Imi (サヨナラの意味)
Kodoku na Aozora (孤独な青空)
Ano Kyoushitsu (あの教室) (Saito Asuka, Hori Miona)
Sayonara no Imi (off vocal ver.)
Kodoku na Aozora (off vocal ver.)
Ano Kyoushitsu (off vocal ver.)

DVD

Sayonara no Imi (Music Video)
Ano Kyoushitsu (Music Video)
Documentary ~Sayonara no Imi~ (ドキュメンタリー〜サヨナラの意味〜)
Type B

CD

Sayonara no Imi (サヨナラの意味)
Kodoku na Aozora (孤独な青空)
Buranko (ブランコ) (16th Under)
Sayonara no Imi (off vocal ver.)
Kodoku na Aozora (off vocal ver.)
Buranko (off vocal ver.)

DVD

Sayonara no Imi (Music Video)
Buranko (Music Video)
Under Documentary ~Tsumasaki no Mukou ni~ (アンダー ドキュメンタリー〜つま先の向こうに〜)
Type C

CD

Sayonara no Imi (サヨナラの意味)
Kodoku na Aozora (孤独な青空)
2dome no Kiss kara (2度目のキスから) (Akimoto Manatsu, Sagara Iori, Suzuki Ayane, Watanabe Miria)
Sayonara no Imi (off vocal ver.)
Kodoku na Aozora (off vocal ver.)
2dome no Kiss kara (off vocal ver.)

DVD

Sayonara no Imi (Music Video)
2dome no Kiss kara (Music Video)
2016 Nogizaka46 -Itsumo to Chigau Natsu- Zenpen (2016年 乃木坂46 -いつもと違う夏- 前編)
Type D

CD

Sayonara no Imi (サヨナラの意味)
Kodoku na Aozora (孤独な青空)
Kimi ni Okuru Hana ga Nai (君に贈る花がない) (Kitano Hinako, Terada Ranze, Nakada Kana, Nakamoto Himeka, Hori Miona)
Sayonara no Imi (off vocal ver.)
Kodoku na Aozora (off vocal ver.~)
Kimi ni Okuru Hana ga Nai (off vocal ver.)

DVD

Sayonara no Imi (Music Video)
Kimi ni Okuru Hana ga Nai (Music Video)
2016 Nogizaka46 -Itsumo to Chigau Natsu- Kouhen (2016年 乃木坂46 -いつもと違う夏- 後編)
Music Video (PV)