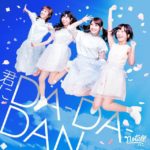 notall released their new single Capybara Jisoku 50km / Kimi ni Da-Da-Dan (カピバラ時速50km/君にDA-DA-DAN) on April 19.
This is the 1st major single of the idol group. It has a double A-side.
The MV for Kimi ni Da-Da-Dan was unveiled.
The single is available in 2 editions.
The edition A cover is a drawing, assigned to the song Capybara Jisoku 50km.
On the other hand, notall released their 1st full album #Socialidol in July of last year.
The members of notall are among the Tokyo Candoll finalists, they'll appear at TSUTAYA O-EAST on May 4, to compete for the chance to perform at Japan Expo 2017 in Paris.
Tracklist
CD

Capybara Jisoku 50km (カピバラ時速50km)
Kimi ni Da-Da-Dan (君にDA-DA-DAN)
Capybara Jisoku 50km (Off vocal ver.)
Kimi ni Da-Da-Dan (Off vocal ver.)
Music Video (PV)