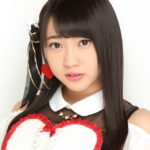 Kizaki Yuria announced her graduation from AKB48.
This announcement was made on April 12 during the radio show All Night Nippon with the presence of the AKB48 members, Yokoyama Yui and Iriyama Anna.
The date of her graduation ceremony hasn't been determined yet.
Kizaki said she has enough experience as an idol and wants to start an acting career.
She was a 3rd generation member of SKE48 from November 2009. She was promoted as a member of Team S of SKE48 in June 2010, transferred to AKB48 Team 4 in February 2014 and then in Team B in March 2015.
Kizaki Yuria was born on February 11, 1996, she is 21 years old.