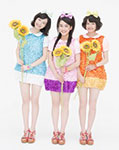 Oha Girl Chu! Chu! Chu! will release their new single Yume Fuusen (夢ふうせん) on November 5.
It is the 5th single from Oha Girl Chu! Chu! Chu!.
6 editions are available.
The regular editions come with a character sticker.
The limited editions include a DVD with the music video and other bonus footage. They also come with 12 trading cards or a mini-photobook.
Tracklist
CD

Yume Fuusen (夢ふうせん)
Kuripure! (クリプレ!)
Yume Fuusen (夢ふうせん) (Instrumental)
Kuripure! (クリプレ!) Instrumental)
DVD (Type D)

Yume Fuusen (夢ふうせん) (Music Video)
Chu! tto Kotaemachu! 5 (ちゅ!っと答えまちゅ!5)
DVD (Type E)

Yume Fuusen (夢ふうせん) (Music Video)
Natsu Thank You!!! 2013 ~Isshou no Takaramono~ (夏サンキュ!!! 2013 ~一生の宝物~)
Chu! Chu! Chu! no Happy! Happy! Happy Birthday! (ちゅ!ちゅ!ちゅ!のハピ!ハピ!ハピバースデー!)
DVD (Type F)

Yume Fuusen (夢ふうせん) (Music Video)
Yume Fuusen (夢ふうせん) (Making-of)
Music Video (PV)