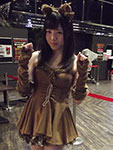 Oz is an idol group formed in 2012. As its name suggests, the unit is inspired by The Wonderful Wizard of Oz.
It consists of the youngest members of Alice Project (アリスプロジェクト).
Check out our interview with Sato Nanase (佐藤七彩) from Oz.
Could you introduce yourself ?
My name is Sato Nanase. I am the leader of Oz. My character is a lion.
What is the concept of Oz ?
The theme of the unit is based on The Wonderful Wizard of Oz.
Alice Juban and Steamgirls are the major groups of Alice Project. The most famous persons of Oz join one of these units when they have finished their training.
Do you know the original story of The Wonderful Wizard of Oz ?
Yes, I have read the book and watched the movie. I liked the story.
You hold live performances everyday at P.A.R.M.S. Theater in Akihabara. What do you think about this place ?
It is a fantastic place. There is a large audience coming here.
On stage, you are wearing original costumes. Could you describe them ?
Each member has a costume based on a character of The Wonderful Wizard of Oz : the lion, the scarecrow, Dorothy…
There is a great atmosphere during your live performances. What do you feel about the support from the audience ?
I look at every person in the theater. I really appreciate everything brought by the support from the fans.
Do you have other activities ?
I am also a model. I do photo sessions sometimes.
Which advice would you give to a girl who would like to become an idol and to join Alice Project ?
The work of an idol is hard but it is fun. Making efforts is one of the most important things.
Do you have a message for your fans ?
I would like Oz to become more famous in the world. Please come to see our live performances here in Akihabara.
Thanks to Sato Nanase and the staff of Alice Project.
Related articles :