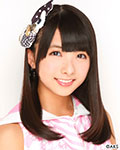 HKT48's Okada Kanna fell on stage today during Team KIV's live performance Theater no Megami (シアターの女神).
The event was interrupted and she was taken to the hospital. Okada Kanna was diagnosed with a fracture of the right wrist.
Further details will be announced later.
She joined the long list of idols injured while doing their activities.
Okada Kanna is a member of HKT48 Team KIV since January 2014. She is a 2nd generation member of the idol group.
We wish her a quick recovery.