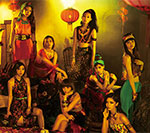 Flower's new single Nettaigyo no Namida (熱帯魚の涙) will be released on June 11.
This is the 7th single from Flower. 3 versions are available.
The MV has been released.
The lyrics of Nettaigyo no Namida depict a sad love. The Asian-style music is full of emotion.
It is the theme song for the variety show Sukkiri!! (スッキリ!!) airing on Nippon TV (日本テレビ).
The regular edition contains 3 songs and their instrumental versions.
The limited edition includes a bonus DVD featuring 2 music videos and a photo booklet.
The members of Flower are also part of E-Girls.
Tracklist
Regular Edition

CD

Nettaigyo no Namida (熱帯魚の涙)
Dolphin Beach
Nando Demo (何度でも)
Nettaigyo no Namida (熱帯魚の涙) (Instrumental)
Dolphin Beach (Instrumental)
Nando Demo (何度でも) (Instrumental)
Limited Edition

CD

Nettaigyo no Namida (熱帯魚の涙)
Dolphin Beach
Nettaigyo no Namida (熱帯魚の涙) (Instrumental)

DVD

Nettaigyo no Namida (熱帯魚の涙) (Music Video)
Let Go Again feat. Verbal (m-flo) (Music Video)
Limited Pressing Edition

CD

Nettaigyo no Namida (熱帯魚の涙)
Music Video (PV)