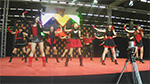 Orange Port held several live performance during Japan Expo 2014 at Paris Nord Villepinte, France, on July 2-6, 2014.
Watch the video of Orange Port Live at Japan Expo held on the 15th Anniversary Stage on July 5.
The members of the idol group from Shizuoka performed their greatest hits such as Yell and a cover of One Piece's 2nd opening Believe.
The girls gave wonderful live performances, showing their dancing and singing skills. They gained a lot of new fans during the festival.