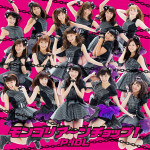 P.IDL's 1st album Mongolian Chop! (モンゴリア~ン チョップ!) will be released on November 4th.
This album contains 17 or 19 tracks depending on the edition, including all their singles.
Pro wrestler Tenzan Hiroyoshi brought his support via a video message with the members of P.IDL (Performance Idol League). He also appears on one of the CD covers.
A series of release events will take place in the beginning of November.
Moreover, P.IDL Live Circuit 2015 is going to be held from November 20th to December 3rd. Concerts are scheduled in Osaka, Nagoya and Tokyo.
Tracklist
Regular Edition

Intro ~Ashita ni Mukatte Mongolian Chop! feat. Tenzan Hiroyoshi~ (intro ~明日に向かってモンゴリア~ン チョップ!feat.天山広吉~)
Natsu! (夏っ!)
D.N.A
Sabishii Nettaigyo (淋しい熱帯魚)
Aibetsuriku (愛別離苦)
FM P.IDL モンゴリア〜ンチョップ!「What a man!」
Shoujo no Mama Jairarenai (少女のままじゃいられない)
Wake me up,Girls!
San San Aibo (燦燦愛慕)
FM P.IDL モンゴリア〜ンチョップ!「CHA-BA-NN」
Stay with me
Boku no Santa (僕のサンタ)
Promise me
Bukkawashi Rock'n Roll ~Shoujo no Mama Jairarenai Part 2~ (ぶっ壊しROCK'N ROLL〜少女のままじゃいられないPart2〜)
Teenager Blues (ティーンエイジ・ブルース)
FM P.IDL モンゴリア〜ンチョップ!「おバカが目を覚ますと犬が吠える」 (Obaka ga Me wo Samasu to Inu ga Hoeru)
Koi no Merry-go-round (恋のメリーゴーランド)
Team P & I Extra ver.

Intro ~Ashita ni Mukatte Mongolian Chop! feat. Tenzan Hiroyoshi~
Natsu!
D.N.A
Sabishii Nettaigyo
Aibetsuriku
FM P.IDL モンゴリア〜ンチョップ!「ダブル フェイス」 (Double Face)
Omoide Fallin' Love (想い出Fallin' Love)
Jun Kokoro Escape (純心ESCAPE)
Shoujo no Mama Jairarenai
Wake me up,Girls!
San San Aibo
Believe in Me
Jump!
P.IDL モンゴリア〜ンチョップ!「おバカの地元は準急が止まる」 (Obaka no Jimoto wa Junkyuu ga Tomaru)
Stay with me
Bukkawashi Rock'n Roll ~Shoujo no Mama Jairarenai Part 2~ (ぶっ壊しROCK'N ROLL〜少女のままじゃいられないPart2〜)
Teenager Blues
(FM P.IDL モンゴリア〜ンチョップ!「金曜日の午後、原宿の前で-If I can speak TOKYO-」)
Koi no Merry-go-round
Team D & L Extra ver.

Intro ~Ashita ni Mukatte Mongolian Chop! feat. Tenzan Hiroyoshi~
Natsu!
D.N.A
Sabishii Nettaigyo
Aibetsuriku
FM P.IDL モンゴリア〜ンチョップ!「過去☆美人☆未来」 (Kako Bijin Mirai)
Dance!
Traveling
Shoujo no Mama Jairarenai
Wake me up, Girls!
San San Aibo
Chance!
FM P.IDL モンゴリア〜ンチョップ!「スポットライトにUVケア」 (Spotlight ni UV Care)
Serenade
Stay with me
Bukkawashi Rock'n Roll ~Shoujo no Mama Jairarenai Part 2~
Teenager Blues
FM P.IDL モンゴリア〜ンチョップ!「ココロノソコカラエガオ」 (Kokoro no Soko Kara Egao)
Koi ni Merry-go-round
Video